Law Articles
【NEWS】Partner Charlotte Wu's Co-authored Essay Honored with the First Prize in the 2017 Int'l Academic Convention on Direct Selling and Cross-Strait Academic Symposium
【NEWS】
Partner Charlotte Wu's Co-authored
Essay Honored with the First Prize in the 2017 Int'l Academic Convention on Direct Selling and Cross-Strait Academic Symposium

Charlotte Shao-Han Wu, Managing Partner at Zhong Yin Law Firm, and consultant Ya-Ping Chen were invited to deliver their co-authored essay "Comparative Regulations for International Recruitment in the Multi-level Marketing Industry: Taiwan, Asia, and the rest of the World" at Tsinghua University in Beijing. Their essay was awarded first prize based on the judgment of the direct selling commission comprising of cross-strait direct selling academic experts and industrial representatives.
The essay attempted to identify the issues by observing new trends and regulatory obstacles brought by the new innovations in networking technology found in the Taiwanese MLM industry, especially focusing on the impact brought by international sponsorship programs and regimes. The study also provided a comparative analysis regarding the practices and procedures of international governmental authorities and regulators who enforced MLM related laws and statutes, with the goal of proposing possible solutions to dealing with such legal challenges in order to create a more effective regulatory system to promote the future growth of the MLM industry.
On 24 August 2017, the "International Academic Convention on Direct Selling and Cross-Strait Academic Symposium on Direct Selling" concluded at Tsinghua. The event was co-hosted by the Chinese Academy of Direct Selling Management, the Direct Selling Research Study Group of China Society for World Trade Organization Studies (CWTO), and the Global Direct Selling Research Institute.
Charlotte Wu's long-term extensive knowledge and understanding of the unique culture and market of Taiwan's MLM industry and regulatory environment provides her with unique insight into the direct selling industry in Taiwan and Asia. She has helped many direct selling companies, both foreign and Taiwanese, in both Taiwan and other Asian countries with their business expansion and company compliance. She is also an expert in the integration of new networking technologies such as E-Commerce, Fin-Tech, biotechnology, and other types of service products related to direct selling and Multi-level Marketing.
Photo: Ya-Ping Chen (Left in white blouse) and Charlotte Wu (Middle in white dress) received the first prize certificate from the presenter (Right)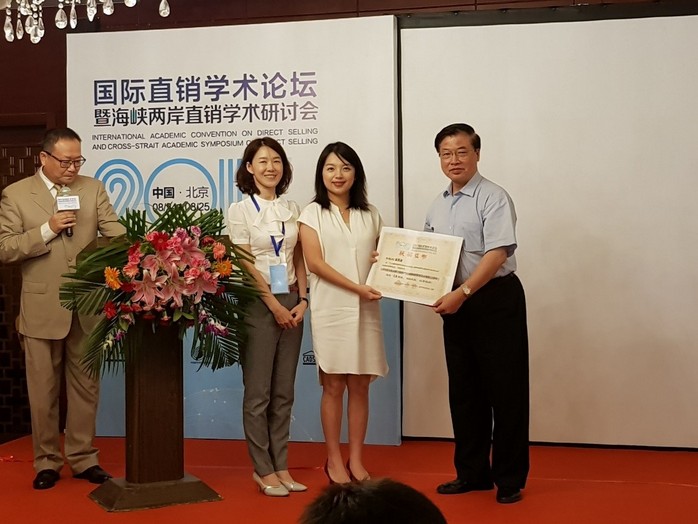 Photo: First Prize Certificate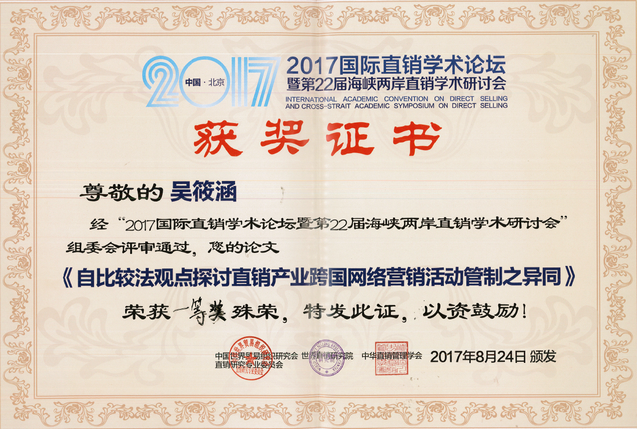 Photo:Charlotte Wu's presentation.